---
[ Buildings ] [ Grass ] [ Hills ] [ Tarmac ] [ Trees and Bushes ]
Please excuse the railway pictures as I have used these methods for model railway as well. Some more suitable pictures will be coming soon.
Method 1: Scatter. Just like the ballast this need to be coated with a 50%PVA and water mix (with a drop of washing up liquid). Unlike the ballast I would recommend gluing the scatter down first, then adding the glue and water mixture after. This is because the scatter is much lighter than the ballast and will move when you add the mixture. I also found like with ballasting that it was also necessary to paint the board the appropriate colour before adding the scatter so that any patches not covered were not visible. This is also a good idea as the scatter can ware off showing a patch. repairs often look worse and stick out.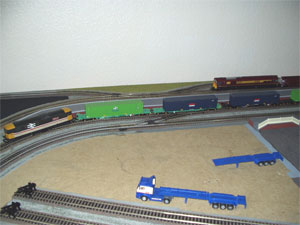 Method 2: Card. There are many dealers out there that supply pre-printed card, such as "Wills". They come as card that you cut to fit the purpose. The paving slab versions look very good and also give you the correct amount of rise above the road. The only downside is the cost.
I would recommend using the printed sheets for the pavements and the scatter for the road bed.