---
[ Buildings ] [ Grass ] [ Hills ] [ Tarmac ] [ Trees and Bushes ]
Please excuse the railway pictures as I have used these methods for model railway as well. Some more suitable pictures will be coming soon.
Method 1: Grass imitating felt. this stuff comes in sheets of 1m squared and is cut to fit and glued down. It has the feel of coarse fir. This stuff is not cheep but allows you to cover a large area quickly with no mess. it is also more resilient than using scatterings. This is what I used.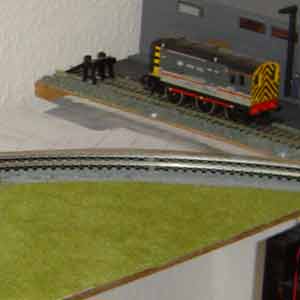 Grass cut, and glued in to place.
Grass Sheet.
---
Method 2: Scatterings. They come in all shapes sizes and colours including grass. First you spread glue over the area you want to cover. Use a lot of glue as this stuff often falls of if you don't. Then spread the scatterings over the glue. It is a good idea to use a sieve to control the amount you use and/or a brush to move it in to all the gaps. Neither are essential but are useful. Once dried use a clean dustpan and brush to collect all the lose scatterings so they can be re used. Don't use a hover as this can pull of a lot of the glued down material. It is my advise to paint the board under the scattering the desired colour so that any fall of due to ware and tare will not show through.