---
Power Supply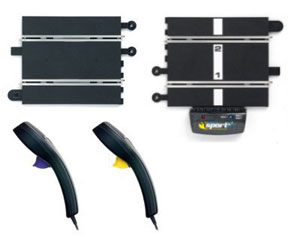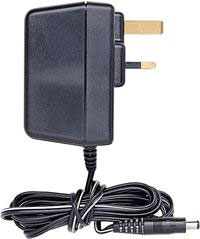 Slot cars are powered by a 12v DC power supply. In the case of Scalextric this is a wall mounted power adapter that plugs in to the mains. This is plugged into a special power section of track that supplies it to the track. the speed of the cars is adjusted by a hand held controller.
---
Controllers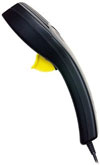 Most controllers are hand held. To make your car go faster you simply pull the trigger more. The controller I basically a variable resister that varies the current that goes in to the track and thus powers the car.
---
Standard Lap Counter / Timer
You don't need to be a brain scientist to know that a lap counter counts laps. There are several on the market with and without lap timers. The latest Scalextric model (Product Code: C8215) counts down from up to 999 laps, times the lap speed in each lane (to the nearest 10th of a second). It has both an LCD display and sounds. Like most Scalextric components it is both sport and classic compatible.
---
RMS (Race management system)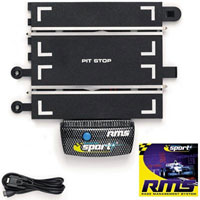 RMS RMS Multi Lane Extension
The Scalextric RMS system consists of a new section of track and a computer software system that records your laps. Every time you pass the RMS section the information is sent to the computer. This way the computer can count the laps and record your fastest laps. You can select the track layout you have on the computer (or input it if it is a custom layout) as well as the cars you are using (only Scalextric cars). You can even input a picture of yourself. With the addition of one "RMS Multi Lane Extension sections", RMS can control 4 lane racing. If you add two "Multi Lane Extension Sections" you can run the maximum of 6 lain racing.
RMS also has a pit stop option but this is less successful as it does not warn you of an impending stop. The only other problem with this system is that it requires a serial port on your computer. these used to be common, but not in more modern computers due to the popularity of the USB bus. If only Scalextric used the USB port.
RMS Placement - The placement of the RMS track section is important. Ideally you should position it just behind the starting line, as it will be the finish line. Through my experience I have found that it is important keep this section level as well as the section before it. If they are not both level the car may not come into contact with the paddles in the grove and thus not register your lap. I also found that placing it next to a bend resulted in laps not being counted especially in the outer lane without any run off.
Click Here to download RMS v1.15 Patch from the official Scalextric web site (approx 3mb)
---
Scalextric Sport Digital (SSD)
This is the latest advancement in slot car racing. Its technology has been used for many years in the realms of railway modelling under the name of Digital command Control (DCC).
The system allows you to race up to 6 cars on one lane with the addition of a SSD power supply (C7004). Lane changes are possible at special crossover sections. You can add as many of these sections as you like. The cars that are run on this track have special chips ID chips so that the car not the track is controlled.
Don't worry if you have existing track and cars as the whole system is compatible with existing sport track and most recent Scalextric and others brands cars. Only requiring the purchase of a conversion kit for the track and a Retro-fit chip for your cars. All SSD chipped cars will run on non-digital track.
Scalextric recommend using the "geometry of the SSD Lane Change track pieces to incorporate realistic overtaking opportunities through the curves of your layout."
Sports Digital Basics - "Drive up to six cars on one lane. Brand new ultra responsive hand throttles with button breaking. Fully compatible with existing Scalextric Smooth digital power control. Choose from 7 different styles of racing. Realistic overtaking on corners. System uses all new Optical System Technology. Most cars can be made digitally compatible. Six different digital cars available initially" as described by Scalextric.
i